CORNWALL'S OPPORTUNITY THROUGH LAW TECH
Legal | May 29th 2019
---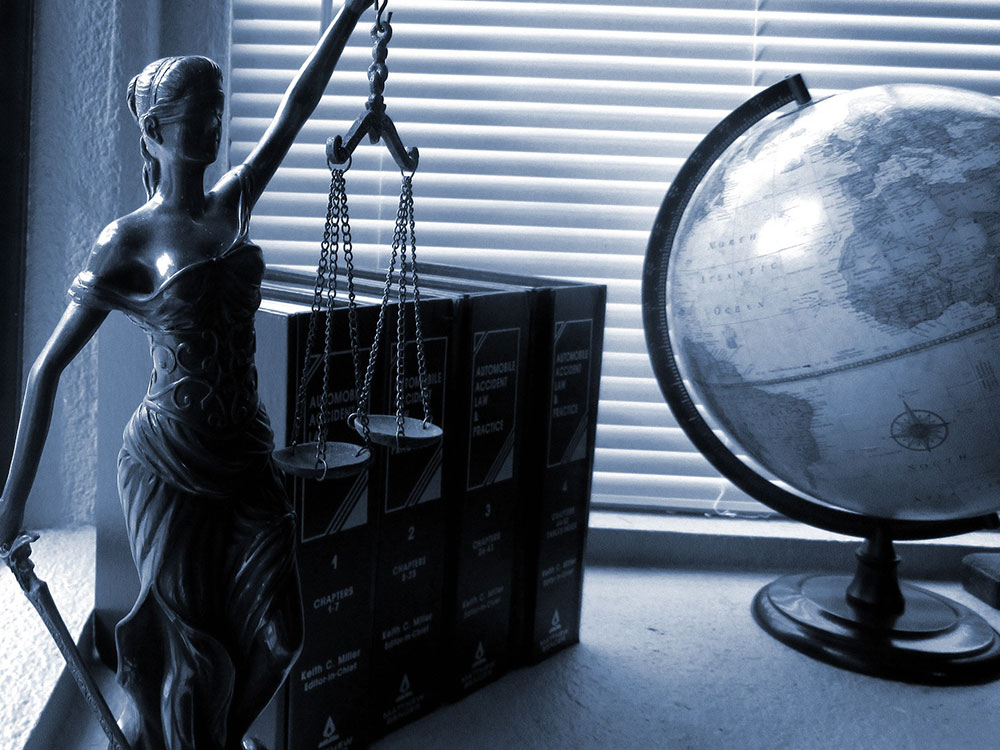 Last year we took a look at innovations in the legal services sector and how Cornish law firms may be set fair for growth especially through technological development, or "law tech". We take a further look at developments this year and how Cornwall's own law firms are investing into tech, as well as a delve into National Statistics and to reflect on the future of the sector ahead of the country's departure from the European Union.
Already the second largest legal services market in the world, and employing over 380,000 people, the UK legal sector continues to grow. According to ONS, the 'turnover on legal activities' to December 2018 is an estimated £35.4 billion, up 6% from 2017 and following a 7% increase on 2016. The country's top 100 firms turnover £24.2 billion alone and account for over two thirds of the total UK revenue, according to a report by TheCityUK.
Cornwall's Legal Sector
The sector in Cornwall also continues to grow. Whilst its businesses contribute a mere 0.3% of the total GVA generated by the legal sector in the UK as a whole, and just 4.7% of the South West's, the growth in the Duchy over the last three years has been impressive. On latest figures (to 2017), the growth in GVA of Cornwall's legal sector by its 1,000 strong workforce is an impressive 34.1%, from £85 million in 2014 to £114 million in 2017. This compares to 13.6% for the South West as a whole and the UK average of 11.6%. Such 'production' levels have not been seen since 2010 in the post-recession recovery.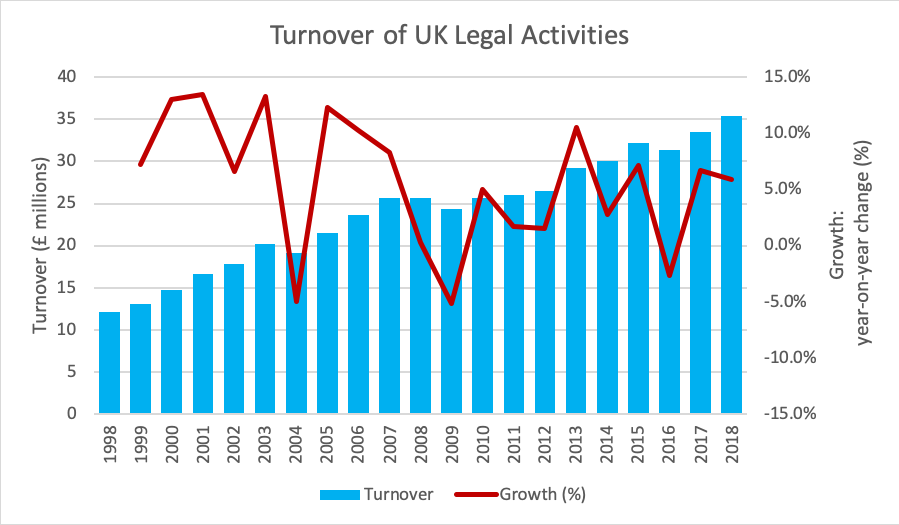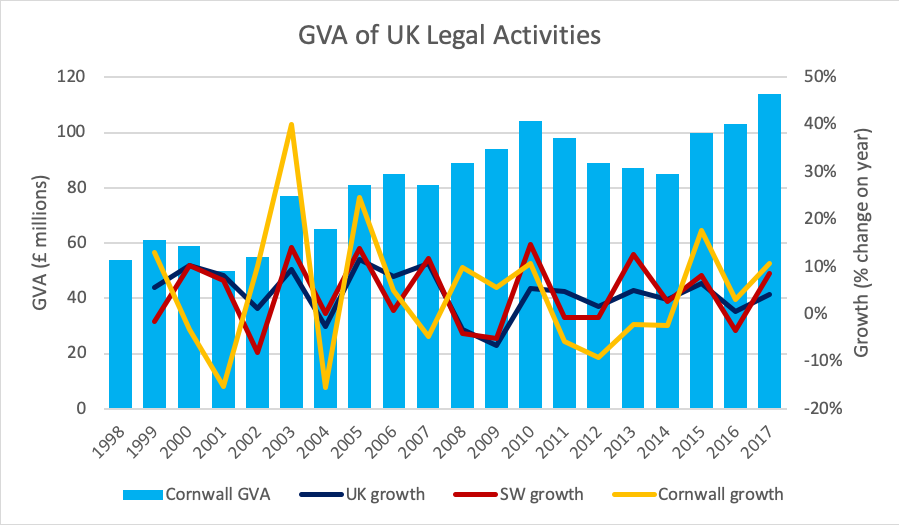 National sector initiatives
The need for cutting edge initiatives to ensure the UK's legal services sectors continues to grow and retain its world-leading reputation are recognised at national level. Last July, the Government announced its backing of a new industry-led delivery panel to drive the development of legal technologies. The LawTech Delivery Panel, chaired by Law Society president Christina Blacklaws, has established six taskforces to tackle challenges in the broad areas of: regulation; ethics; commercial dispute resolution; education and training; investment and funding; and establishing the UK as jurisdiction of choice for LawTech.
The Solicitors Regulation Authority (SRA) regulates 186,000 solicitors and 10,400 law firms in England and Wales. The SRA's 2014-17 Corporate Strategy set a number of objectives around reforming regulation to enable growth and innovation, raising standards and upholding core professional standards, improving operational performance, and working with stakeholders to improve quality of its services. Among those was "SRA Innovate", an approach to encourage firms to innovate and offer services in new ways that help the public, with the development of web resources and provision of a safe space for firms to try out new things. Its latest three-year Corporate Strategy puts a sharper focus on high professional standards and the reduction of unnecessary bureaucracy, reducing costs and removing constraints on an open and competitive legal sector.
Digital development in Cornwall
Cornwall's larger law firms are rising to the challenge. Colin Hunter, Partner and Department Manager (Personal Disputes), for Coodes explained how his firm is digitising business: "It is interesting; as a sector we have been slow on uptake with respect to tech. We had just about caught up by the time of the crash [2008], but then it slowed. Firms have now, as a necessity or otherwise, decided they need to catch up.
"Coodes started working on this about five years ago, evaluating our technology requirements and how people will use services in the future. We asked our staff how we needed to improve, and what technology could do for us and our clients."
Coodes have transformed the business over its nine offices, though Colin admits the systems have wide ranging functionality and are still 'bedding in' for their 180 employees. Importantly, the investment includes how they have moved to hosting servers and data in the cloud: "If you look at the top 100 law firms in the country, quite probably 90% are now in the cloud. Backups and everything has greater resilience. All our offices are on superfast internet so we don't notice it really."
At Foot Anstey, Tara Walsh, Client Solutions Lead, reflects on huge changes in the legal industry over the last few years: "We have seen exponential growth in legaltech, which is really exciting. It reminds me of the dot.com bubble in the late 90s, but we know what happened there. We are likely to see consolidation over the next 5 years. However, what you have here is a risk averse market and what was once the domain of the two major tech players (Thomson Reuters and LexisNexis), we're now seeing a huge rise in the adoption of cloud based legaltech start-ups, some of which are being nurtured by the larger City firms; i.e. Fuse (Allen & Overy), Nextlaw Labs (Dentons) and MDR Lab (Mischon de Reya)."
Ultimately, exploiting opportunities with tech leads to better client service and being more accountable (and giving better value for money). Tara Walsh explains that Foot Anstey has worked collaboratively with its clients to provide solutions designed to address their issues: "Clients want more for less from their legal suppliers and law firms need to respond to that by understanding what the value to the client is."
Similarly at Coodes, Colin Hunter describes some of the specific benefits of an integrated system: "Clients can 'connect' with us in a more meaningful way, whether that's from their laptop or their mobile phone. They complete a triage pro-forma which goes directly to the right team. As time goes on clients are able to monitor how their case is progressing, as well as being able to upload documents or photographs into their case file."
Innovation in Cornwall
The future is exciting with law tech. Alongside some of the national sector initiatives, Foot Anstey has a strategy for innovation. Tara explains: "We set up Foot Anstey Innovation Hub last year, bringing together a multi-disciplinary team to work collaboratively on initiatives. We have Innovation Champions from across the business who bring ideas to the Hub, where they are discussed, rated using a criteria which is heavily weighted to improving the client experience.
"As well as the Innovation Hub, my role was set-up to identify and develop client led solutions such as real estate portfolio management, working closely with senior lawyers. We have created a balanced portfolio of initiatives that address current issues our clients have, as well as areas that we believe will impact the legal sector in the future. We're looking at a number of areas closely, such as Blockchain (and the impact for us as lawyers and for our clients and the markets they are in), E-discovery and predictive coding, artificial intelligence (AI) and Smart contracts."
Automation and AI
At Coodes, Colin Hunter also has an eye on the future, recognising that there will be a demand for greater automation to make repeated tasks more efficient, as well as opportunities for artificial intelligence. "Processing large document based tasks, for example in dispute resolution, is traditionally a paper-based exercise, involving search and sorting of information, filtered by humans. If you have a large dispute, AI could be directed to relevant search activities, saving lots of person hours."
The statistics present a positive picture that Cornish law is punching above its weight and contributing well to the economy. Client experience is clearly improved through smart use of technology aided by a good broadband network. As well as offering employees a fantastic work/life balance, Cornwall therefore presents a real advantage to its law firms. Whilst both Foot Anstey and Coodes represent two of the larger firms in Cornwall, the challenge for the sector as a whole is for the smaller practises to be aware of the opportunities for transformational change, not to get left behind and therefore to make time and find resources to invest appropriately in law-tech.
More from Legal
CORNWALL BUSINESS ACTIVITY, SIZE AND LOCATION 2020

The 2019 overview of Cornwall business activity, size and location with some comparisons to South West and UK data.
CORNWALL BUSINESS ACTIVITY, SIZE AND LOCATION 2019

The 2019 overview of Cornwall business activity, size and location with some comparisons to South West and UK data.