CORNWALL'S CREATIVE INDUSTRIES AND CREATIVE TECH
Creative industry | August 12th 2019
---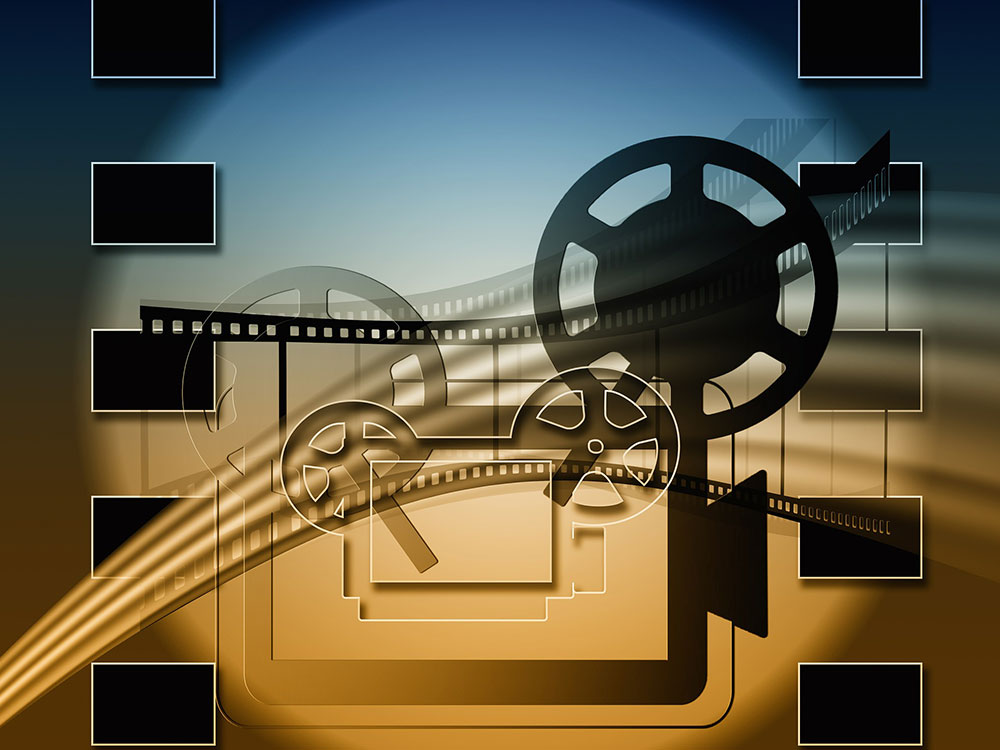 Only time will tell whether the eventual outcome of the Brexit deliberations will have any form of lasting impact on the Cornwall economy and its creative industries. Whether it's out with a deal and we start a long series of negotiations for the future relationship with our European neighbours, or an absolute 'out out', the results will eventually be played back through national statistics… always a retrospective view.
We have reviewed some of the key economic indicators around Cornwall and Isles of Scilly's creative industries which will serve as important benchmarks for the future.
In context, our analysis of data from National Statistics shows that the number of jobs in the creative industries nationwide is estimated to be around 1.4 million, delivered by approximately 290,000 enterprises. About 85,000 of those jobs are in the South West (21,000 businesses) and over 4,800 are within one of Cornwall and the Isles of Scilly's 1,400 enterprises. The independent Bazalgette review in 2017 (commissioned by the government's Business and Culture Secretaries to conduct an independent review into 'how the UK's Creative Industries can help underpin our future prosperity, focussed on developing new technology, capitalising on intellectual property rights and growing talent pipelines') states that the creative industries could deliver close to £130bn GVA by 2025 and approximately one million new jobs could be created in the UK by 2030.
So what do we mean by the creative industries? The sector encompasses film, TV, music, fashion and design, arts, architecture, publishing, advertising, video games and crafts. Further, the "creative tech" sector is a subset of this, where technology is used alongside creativity and design to deliver products or services. In a recent report by PFA Research for Invest in Cornwall, the creative tech sector was defined broadly as those companies operating within advertising and marketing, architecture, design (product and graphic), software engineering, and specialist video production and design services.
The proportion of Cornwall's creative industry businesses that fall within the 'creative tech' category is 69%. Although this is somewhat lower than the 82% for UK as a whole, this likely reflects the wide diversity of creative talent in Cornwall with its long heritage in the arts including Falmouth University (previously Falmouth College of Arts).
And the outlook is promising. Given a fair wind after the Brexit heavy weather, employment in creative tech enterprises in Cornwall and Isles of Scilly could increase to over five thousand by 2030, if the trend of the last few years is anything to go by, a cumulative increase that proportionally is double of that of growth across all industries as a whole.There has been greater employment growth in Cornwall and Isles of Scilly associated with creative industries than across all industries as a whole. Employment in creative businesses has grown by 35% over the last eight years compared to less than 25% across all industry sectors. The real success however is within the creative tech cluster, which has seen an eight year employment growth of 63%. It is important to note that National Statistics report only from those enterprises leaving a footprint by VAT and PAYE registrations, so it is likely that the real figure including all those earning a living from creative tech, i.e. the sole traders and part time creatives in the gig economy, is even greater than that currently counted in national statistics.
It is frequently commented how Cornwall as a place for business offers significant lifestyle benefits to employees over other places. The PFA Research survey of Cornwall's creative tech businesses in 2018 showed 30% had increased staff over the previous 12 months and that being able to attract and retain staff was broadly not a problem for them, with four in ten saying they had attracted skilled workers from outside Cornwall and the Isles of Scilly, not only across the South West but the wider UK, Europe and internationally.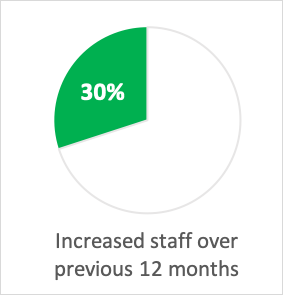 Sector business owner/managers mentioned several reasons relating directly to the creative tech sector as an industry with positive staff retention rates, including that the sector offers "interesting and challenging work" and an "environment/lifestyle with good salary and variety of work", all of which helps them to keep hold of their most skilled employees.
A third (33%) believed that the staff retention in their industry was better than compared to the national average and a half thought it was about the same or they were unable to say either way. Just 16% thought it was worse.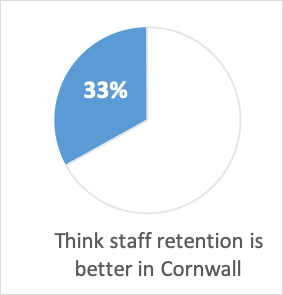 Further, none of the survey participants felt that they would have to reduce employee numbers as they looked ahead to 2019, suggesting strong trading conditions at the time and a perceived healthy level of job security. In fact, 41% were expecting the need to increase their staff count.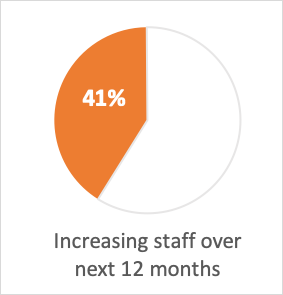 Any external perceptions that Cornwall's creatives are only part-timing against the draw of the surf are probably unfounded… hours worked in Cornwall's creative tech business are fairly typical of the industry across the nation (a solid 7 hours daily) though data suggests that those same jobs in London will demand higher average daily working hours.
Creative tech businesses in Cornwall enjoy the flexibility of their working hours, with many employees being free to work the schedule that suits them as long as core hours are observed. This highlights Cornwall's attitude towards promoting positive and flexible working to aid a strong work/life balance, and for business leaders to maintain good morale and working environments.
Revenues
In terms of turnover, over the last three years creative tech in Cornwall and Isles of Scilly has grown 45% compared to just 14% for creative industries as a whole, and has doubled since 2010. Creative tech turnover for the UK as a whole grew 'just' 26% for the same three year period.
On average, creative tech businesses in Cornwall and Isles of Scilly earn 20% of their annual turnover from exported services. However a half of those surveyed (51%) reported not exporting at all. Some, and most notably those in the games development sub-sector, report close to 100% of their turnover coming from exported product, clearly having a strong weighting on the overall sector average. Other companies with strong export links are typically found in design and other software development.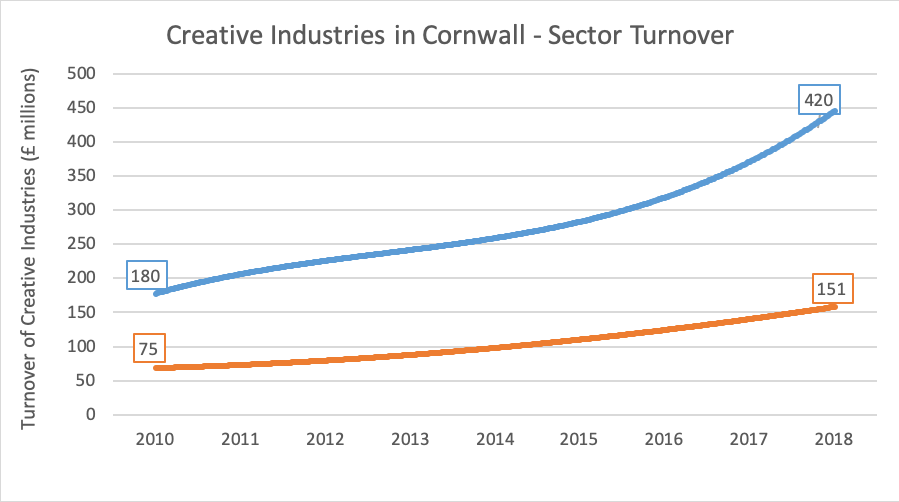 Innovation
Creative tech businesses by definition are likely to be the innovators or will have a linked dependency on innovation from other sectors. The government's biennial UK Innovation Survey is currently in field and we can expect the results next year, but the latest findings released last October showed that 9% reported the EU referendum as a barrier to innovation, noting that the survey fieldwork period covered a pre- and post-referendum time frame, making it difficult to draw firm conclusions about the impact of the referendum on innovation.
However, Bazalgette in the 2017 sector review makes recommendations around innovation, noting "the Creative Industries are highly active in Research and Development (R&D) but such activity is not fully or formally recognised, meaning direct investment into Creative Industries R&D projects is too low. Industry and government need to work together to ensure that this trend is reversed and that the contribution of creative disciplines to R&D is properly valued."
Evidently the creative industries in Cornwall and Isles of Scilly, and in the creative tech sector especially, remain an important part of the economic fabric. Whilst just 1.5% of employment across all industry sectors is accounted for by creative tech businesses (and 2.7% of all in creative industries), this has grown 44% since 2010 but remarkably just 3% since pre-EU referendum. Next year's data may tell us whether we're ready for another creative lift off.
Image by: https://pixabay.com/users/geralt-9301
More from Creative industry
CORNWALL BUSINESS ACTIVITY, SIZE AND LOCATION 2020

The 2019 overview of Cornwall business activity, size and location with some comparisons to South West and UK data.
CORNWALL BUSINESS ACTIVITY, SIZE AND LOCATION 2019

The 2019 overview of Cornwall business activity, size and location with some comparisons to South West and UK data.